Welcome to Carnival of Space 236!
What a webisode we have for you this week. Its been a busy week, so lets see if we can drag you away from your social media and blogs for a few minutes to check out what's going on in your community - Space and Astronomy.
Next Big Future
explores propulsion systems this week. The key to
Spacex reusable rockets
, at least for the first stage. Its all about the price per pound, for the Falcon Heavy, that would mean a price per pound to orbit of less than $500."
Other alternatives include a
water-electrolysis propulsion system
for 3U CubeSats is proposed that could fill the gap in the available propulsion systems at this scale
NASA has a
nuclear-propulsion project
with a budget of US$3 million.
The
Lithium Lorentz Force Accelerator
(LiLFA) as one of the most promising candidates for planetary exploration and heavy payload orbit raising missions. It can have an exhaust velocity of 50 km/second and a thrust density of 100,000 newtons per square meter
In an interview with Sander Olson, fission propulsion advocate Tabitha Smith argues that
fission rockets could be rapidly developed
and become the enabling technology for opening up the solar system for human exploration. Tabitha is in charge of the Bifrost project.
The Cosmic Log
found skywatchers on Earth oohed and ahhed over the northern lights that were sparked by January's solar activity, but a new crop of videos makes it clear that the astronauts on the
International Space Station had the best seats
in the house.
Commercial
space ventures are taking small steps
toward giant achievements ranging from suborbital space flights to trips around the moon.
After struggling through some legal glitches, skydiver Felix Baumgartner and his team say they're
back on track for a 120,000-foot jump
that will break a record that's stood for 52 years and blaze a trail for future space adventurers.
Simostronomy
reports that 88 years after it was initially discovered,
Hubble's 1923 nova in the Andromeda galaxy
has erupted again, making it one of a rare class of recurrent novae.
Discovery News
takes us through a spaghetti diagram. OK, so it's not real spaghetti -- it's a
computer visualization of the complex magnetic field
that creates Earth's magnetosphere -- but it sure looks tangled.
Guest contributor Pat Galea
discusses how a starship may transmit signals
across the light-years between the stars.
The
Urban Astronomer
checks in on JAXA's announcement that they will be launching a
successor to the embattled Hayabusa probe
, with the same mission goals but hopefully using more reliable technology!
Emma from
We're all in the Gutter
outlines her plan for
improving the popular TV show MasterChef
with a technique commonly used in astronomy.
Links Through Space
launches to the Moon which has been in all facet's of culture through out all the Civilisations on Earth and there is no doubt that it affects us in a way or another. Here is a documentary of the BBC that let us
see how the Moon is so important to us
in so many ways.
Gadi Eidelheit from the
Venus Transit blog
, describes
why the moon brightness is so variable
during a lunar month.
Vintage Space
grabs a brush and describes a brief history of
the paint scheme of space race rockets
inspired by my recent introduction to the world of model building.
The Chandra Team
are no "flash in the pan" a long term contributor to COS, report on a new study suggests
mysterious X-ray flares
caught by Chandra may be asteroids falling into the Milky Way's giant black hole.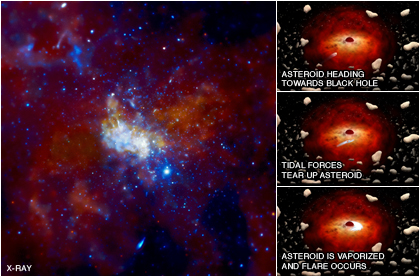 Announcing the
reboot of a long defunct blog:
the
Astronomy Word of the Week
(AstroWoW). Starting with the letter 'A', this week's entry is brought to you by the word 'aberration'.
Starry Critters
reports on Sea mon­sters, birds and mys­tic moun­tains hiding in this highly detailed infrared image of the star-making Carina Neb­ula from ESO's Very Large Telescope.
For the A-Z of all things space
ZME Science
looks at the longest drought on record -
600 million years on Mars
. Others have been playing with
water droplets on the International space station
. Water droplets orbiting a knitting needle - take a look!
Armagh Planetarium
brings us the legend - centuries ago a Chinese official named
Wan Hu attempted to visit the Moon
. His spacecraft was a large wicker chair to which were fastened 47 large rockets. His underlings rushed forward to light the fuses then retreated. A moment later there was a mighty bang and flash accompanied by thick clouds of smoke. When the smoke had cleared, Wan Hu was gone without a trace. This story is repeated time and time again but is it true?
Finally here at AARTScope (below also) I cover one of the southern beauties that many of you eclipse hunters, planning a pilgrimage to Australia for the Solar Eclipse in November, will want to take a look at. The ESO released last week a new image of the
Gabriela Mistral Nebula
NGC 3324.
The
Carnival of Space
is a community of interest blog carnival bringing together the best and brightest Astronomy & Space Blogs at a single point in space and time (commonly referred to as a web address) each week. Previous episodes can be found
here
. If you run an astronomy or space science blog you can contact carnivalofspace @ gmail.com to be added to the editorial circulation list.
[Photo credits listed in the relevant articles]